About Danny G's Celica
I'm not a very good website designer person, so I appoligise for my spelling, and for the quality of the site :) If you think my car looks stupid, or if
you have any other comments, please e-mail them to me at dgreen@radioactive-software.com, thanks for checking out my car! I bought my white 2002 Toyota
Celica GT (yeah I was too poor to get a GT-S) on October 20, 2001. It's a 5 speed manual transmission, and has a moonroof, and some other neat crap.
I didn't start to modify it until the middle of March 2002 though.....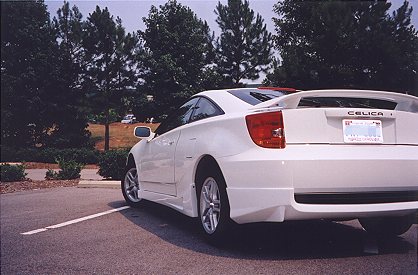 Mod List
This is a list of all the modifications I did to my car up to this point. In parentheses at the end of the description is the date that
the modification was installed. The newest modifications are at the bottom of the list, which is sorted by date.

Antenna Removal- I thought the stock antenna looked really stupid, It stuck up like 3 feet off the car, so I took it off :) (3/10/02)
Debadging- I wanted a cleaner look on the back of the car, so I took off the "Toyota", "GT", and dealership badge thingies on
the back of the car. (3/10/02)
Rod Millen Motorsports Carbon Fiber Hoodscoop- ...Right...now this is the first real modification I did to the car. It's a black looking
hoodscoop that just bolted into the factory holes. Since I was going for a white/black color scheme on the car, it fit right in. (4/18/02)
Black "Celica" Fill-in Decal- I'm going for a white/black color scheme on the car, so I bought a black fill-in decal to fill in the "Celica" word
on the back of the car. It looks good from a distance, but when you get up close you can see how bad I am at applying decals :). (4/18/02)
TRD (Toyota Racing Development) Catback Exhaust- This baby set me back a pretty-penny but it was worth it. It has a 4 inch diameter
tip, a nice loud/deep sound to it, is made of stainless steel, and has TRD embossed on the tip. The exhaust isn't all sound though, it adds about 10
horsepower to the car. (5/25/02)
Cobra Radar Detector- I was tired of the "PoPo" always trying to tag me for speeding, so I got a nice little Cobra radar detector hardwired into
my car. (6/25/02)
Avital Security System/Keyless Entry- My car didn't come with any anti-theft protection whatsoever, so instead of buying a "Club", I got this
security system installed. It also has keyless entry, shock sensors, and some other neat stuff on it. (6/25/02)
Pioneer P6400 CD Player/Head unit- Now we get into the cool stuff, this CD player is pretty damn cool, it has one of those fully animated screens
so if I'm at a stop light I can look down and watch a 3 second video of some dolphins swimming, or some rotating gears, there's about 10 different
"idle" screens for it. It also plays CDs. (7/05/02)
Two 10" Kenwood Subwoofers- I have a cool story about these bad boys, I was in Best-Buy to buy them right? And the register lady rings them
up and is like "your total is $26.45" and I'm like...."wwwwright", but I didn't argue or anything, I just paid and ran out of the store. These babies are
supposed to be $119.99 EACH, and I got them both for 25 bucks! I'm a lucky bastard. Anyways...they sound phat as hell with the trunk open,
but when the trunk is closed and the bass is cranked the trunk handle rattles like crazy, so it's kind of lame :( You can't hear the rattling on the inside,
but from the outside it's pretty noticable. (7/05/02)
1000 Watt Max Power Kenwood Amplifier- You need one of these things to power the subwoofers, so I bought it. Yeah...true story. (7/05/02)
Rod Millen Motorsports Body Kit- Here we go, this mod is my personal favorite :) This was a little more money than I really wanted to spend
but I wasn't really satisfied with the looks of the car, specifically from the back, so I got a full body kit for it (minus the huge spoiler). This was painted
and installed by "Classic Collision Center" in Cary. They did a really good job on it, but when I first got it I was concerned that the paint color of the
body kit was whiter then the rest of the car, but I gave it a few days and now it looks pretty good. (7/16/02)


Picture History of the Celica
Alrighty, these pictures might take a while to load, but I tried to put only the really cool ones on this page. As with the modifications list,
the farther down the page you go, the newer the pictures get.

The car is basicly stock here, the first known picture of the Celica. (With removed antenna/debadged)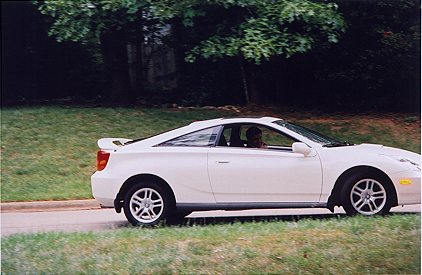 3 pictures of the Celica with the Fill-in decal, removed antenna, hoodscoop, debadging, and the TRD Exhaust. In case
you're wondering, yes I'm humping the Celica in that second picture :)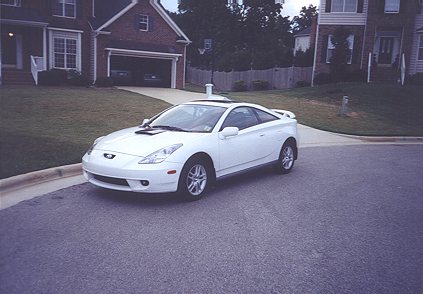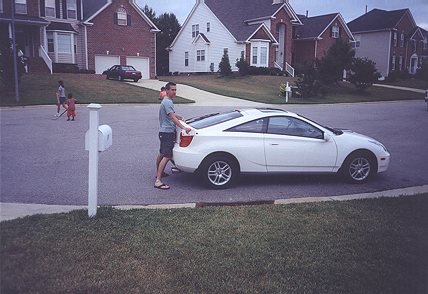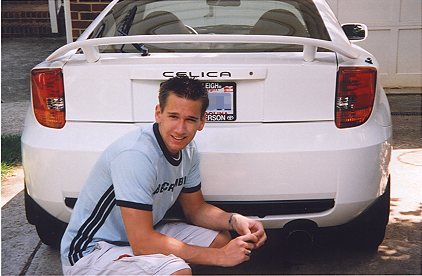 Here are 4 pictures of the radar detector and sound system I put in. I know you'll like my super-organized trunk. Someday
I might get a custom enclosure for the subs.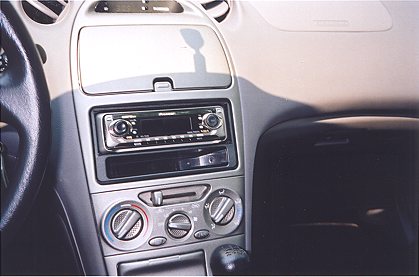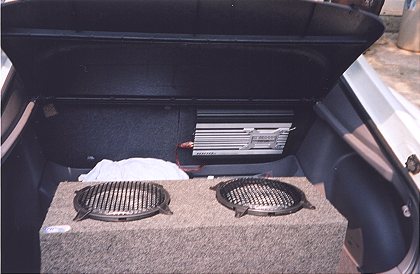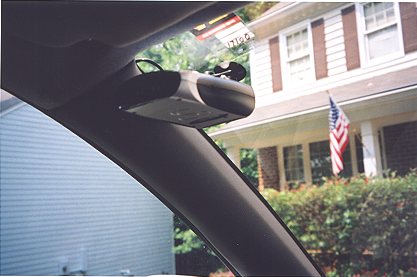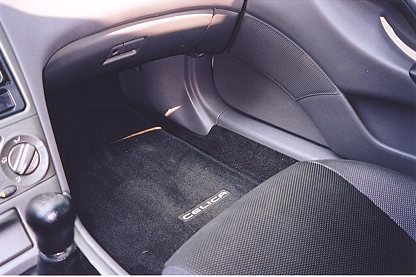 These pictures are with the RMM body kit, and all that good stuff. There are 8 pictures.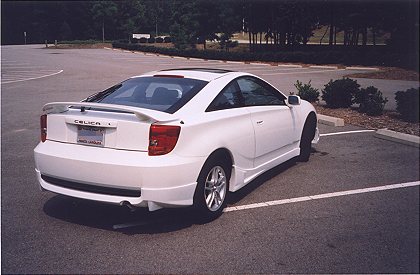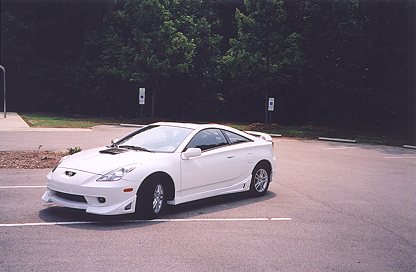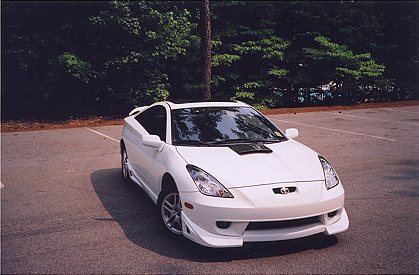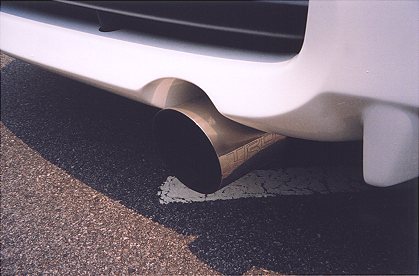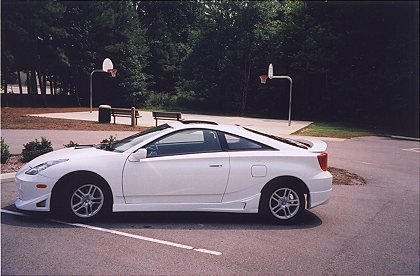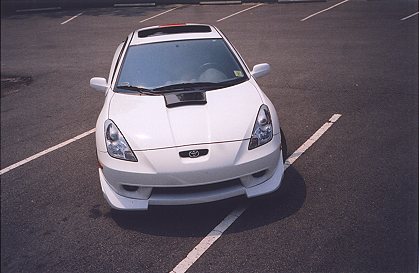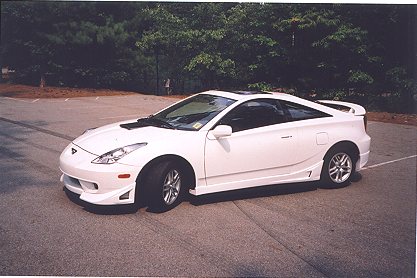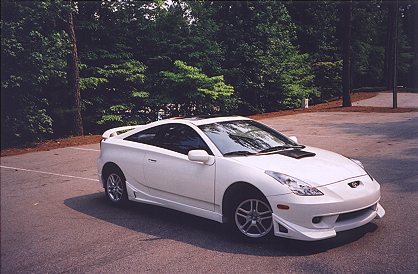 If you've actually read everything then I thank you...but if you just
scrolled down to the bottom...I'm very disappointed in you :)